franceseattle

Add franceseattle as a friend

franceseattle will be notified and will have to accept this friendship request, to view updates from franceseattle and their ratings you must follow them.

Remove franceseattle as a friend



Lists
Recent reviews

Posted : 3 years, 3 months ago on 13 February 2020 05:34 (A review of
International Showtime
)
As a child, I adored anything to do with the circus. This show featured circus acts from different European locations each week. I watched it for a whole year each Friday evening, I think during 1961-62, approx.

0 comments,
Reply to this entry

Posted : 3 years, 3 months ago on 13 February 2020 05:24 (A review of
The Dick Cavett Show (1968-1974)
)
I watched the Dick Cavett show in order to see his very interesting guests. Unfortunately, Mr. Cavett always seemed to do most of the talking so I was usually infuriated at not hearing much from the guests. I'd say Cavett was the worst TV interviewer I have ever seen.

0 comments,
Reply to this entry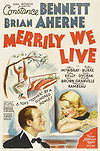 Posted : 7 years, 1 month ago on 9 April 2016 11:36 (A review of
Merrily We Live
)
It's not as uniformly excellent a screwball comedy as My Man Godfrey, or You Can't Take it With You, but if you stick with this, there are some funny scenes that make it worthwhile watching. Brian Aherne is awfully funny here, as are scenes with Patsy Kelly and Alan Mowbray as the put-upon butler, with the redoubtable Billie Burke as a silly but lovable lady of the house. Add to that two dogs. So, it's not a perfect film, but there aren't nearly enough screwball comedies in the world, so if you want some light-hearted entertainment, give this a shot.

0 comments,
Reply to this entry
Movies
TV
Books
Top rated

My books page

Rated 1 books

DVDs